Aluminum Wiring Replacement Keeps Seattle Homes Safe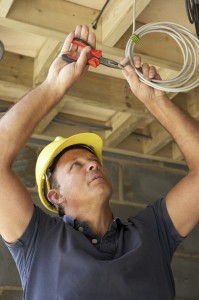 Prior to 1972, aluminum was the most affordable means of electric conduction and most homes' electrical wiring utilized the metal. Copper, being a more conductive metal, became the affordable and standard material for wiring in the 70's. Aluminum is still an effective conductor; however since it was abandoned by the electrical industry it is no longer compatible with today's technology. Danger from aluminum wiring actually spawns at the fixtures, outlets and switches. Since copper is the industry standard for electrical wiring, all receptacles are now made with copper connectors. Copper and aluminum expand and contract differently at different temperatures, so as heat is transferred through electricity, this expansion/contraction difference will cause the wires and connectors to loosen. Over time, loose connections will arc, and arcs are a serious fire hazard.
At Seattle Electricians Today, we've been rewiring Seattle, WA homes since 2006. Because your family's and property's safety is our number one concern, we want to make sure every home in the area is up to code. When Seattle Electricians Today takes on your Seattle Aluminum Wiring Replacement, the process is simple. Our trained Seattle Electricians will remove all aluminum wiring feeding from your panel throughout your home and replace it with copper wiring. We'll also replace any receptacles, fixtures or switches that have aluminum connectors. We have plenty of experience, so the process will be fairly quick. When we're done, you can relax and rest easy knowing your home electrical system is up to date and safe.
Our Seattle, WA Aluminum Wiring Replacement Technicians Provide the Following Services
Whole House Rewiring
Aluminum Wire Replacement
Fixture/Switch/Outlet Replacement
Knowing Your Electrical System Is Beneficial
For those unsure of what type of wiring their home has, there are warning signs you can be on the lookout for. Char marks or blue arcing energy around your outlets or switches is a red flag. In fact, these are issues that must be addressed immediately regardless of whether you have aluminum wiring or not. Secure the safety of your home and family when you need aluminum wiring replacement. Call Seattle Electricians Today.
Recent Articles
Electrical Safety Concerns In West Seattle

In the United States, nearly 50,000 fires occur every year due to electrical problems. Unfortunately, that's a lot of fires in our country that could have been avoided if only the owners had called for electrical services. Electrical inspections can uncover hidden electrical problems that go unnoticed by homeowners and business owners. Homes that are...

Read More
Landscape Lighting and Commercial Properties

When you own a commercial business, it's important not to overlook your Seattle outdoor landscape lighting setup. Exterior lighting for commercial properties is a very important aspect for security, function, and aesthetic reasons. Whether your exterior lighting is part of your landscape or hardscape, when you have a commercial property, you want to be sure...

Read More
If you are looking for Seattle Aluminum Wiring Replacement Specialists then please call 206-937-8495 or complete our online request form.