Electricians That Redmond Can Count On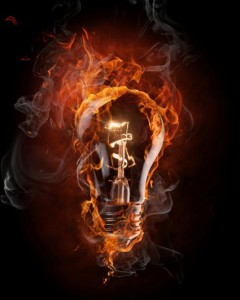 Electricity is one of the most important systems in your home. We rely on it for just about every modern convenience we all enjoy daily. It is also a dangerous and powerful thing. Whenever you need electrical assistance, you need a certified Redmond Electrician like Seattle Electricians Today. We've provided excellent electrical service for Redmond homeowners since 2006. Our team is capable, well trained and committed to service excellence. This is evident in our workmanship and the fact that we offer a 100% satisfaction guarantee to all of our clients. We boast the fastest response times in the area for repairs and we always arrive with a fully stocked van so we are prepared to handle your service call on the first trip. Our goal is to minimize inconvenience to you so you can get to enjoying uninterrupted electrical service. That is why we are the number one choice in Redmond for Electrician.
At Seattle Electricians Today we strive to offer the largest selection of electrical services available to Redmond homeowners. We offer electrical system inspections for new home purchases, safety inspections and sellers. We also offer home standby generator and car charging station installation. We offer electrical repairs of all kinds as well. Whether your ceiling fan has taken on a mind of its own, your outlets have stopped working or your smoke detector won't stop going off, we can help. Seattle Electricians Today is here for all of your electrical service needs.
Electrical Wiring Experts Serve Redmond Homeowners
If you have a home that was built prior to 1972, you could possibly still have aluminum wiring. While aluminum wiring is perfectly conductive, it is incompatible with current copper standards and therefore poses a hazard. Your wiring may be aluminum, but likely your outlets, fixtures and switches have been changed out at some point and have copper connectors. Aluminum and copper expand and contract at different temperatures so this may cause your connection to come loose. When this happens, arcing could occur and that is a serious fire hazard. If you still have aluminum wiring in your home, call Seattle Electricians Today and have it replaced. We will perform a whole home rewiring and replace all of your wires and connectors with industry standard copper. That way you can be sure your home is safe and up to code with current electrical standards.
At Seattle Electricians Today, we can offer Redmond homeowners any Electrical Wiring Service they require. If you need help wiring your home theater equipment or computer networking gear, we can help. If you need wiring rerouted to a new place in your kitchen because of a remodel, we can help with that too. Whatever your electrical wiring requirements, Seattle Electricians Today can accommodate.
Lighting Installation & Repair in Redmond
Lighting offers your Redmond home the perfect marriage between form and function. While providing you with functional illumination, lighting also plays an important role in design. From your decorative fixtures to the brightness and shadows your lights cast, lighting has just as much to do with your décor as your design elements. If you are looking to change the look of your home, call on Seattle Electricians Today for lighting fixture installations. Create an elegant and sophisticated atmosphere with pendant fixtures in your dining room. Lend a modern look to your kitchen with under-lights lining the cabinets. Transform your landscape into a relaxing oasis with low voltage lamps and LED pool lighting. You don't have to spend a fortune on remodeling when lighting can enhance your home. Our talented Lighting Designers can even help you if you are unsure what look you would be happiest with. From landscape lighting to security lighting, interior lighting and more, call Seattle Electricians Today whenever you need lighting services.
Recent Articles
6 Electrical Services You Want For Your Seattle Home

Most electricians are professionals who take electrical repairs very seriously. However, not all strive to ensure that every customer receives the highest quality repairs and most professional service possible. Be sure you choose a reputable company who will always get the job done as quickly as possible but won't ever sacrifice quality for speed. If...

Read More
Landscape Lighting and Commercial Properties

When you own a commercial business, it's important not to overlook your Seattle outdoor landscape lighting setup. Exterior lighting for commercial properties is a very important aspect for security, function, and aesthetic reasons. Whether your exterior lighting is part of your landscape or hardscape, when you have a commercial property, you want to be sure...

Read More
If you are looking for a Redmond Electrical Professional then please call 206-937-8495 or complete our online request form.