Home Generators for Seattle Homes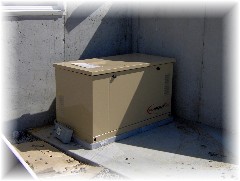 In every home around the globe, people will inevitably suffer from a power outage. Utility work and severe weather are forces beyond our control that cause these. Many outages only last a couple of minutes, however some can last days. This is always inconvenient as refrigerated food or computer work can both be lost. The best way to protect yourself from these types of losses is with a home backup generator from Seattle Electricians Today. We've provided Seattle, WA homeowners with backup power since 2006. The manufacturers we work with produce the finest quality generators and we have a wide selection. Our Seattle Electricians have undergone the special training necessary to efficiently and quickly install your backup generator and they are capable of answering questions and teaching you how to use it as well. That is why we are the premier choice for quality Seattle Home Generators.
Our Seattle, WA Home Generator Resource Provides the Following Services
Backup Generator Installation
Whole Home Generators
Generator Maintenance & Repair
Which Generator Is Right For Your Seattle, WA Home
At Seattle Electricians Today, we work hard to give you as many generator options as possible. Generators differ in the amount of power they can produce and how many of your home's appliances can be powered at one time. You have the option of choosing either a smaller generator for essentials such as the refrigerator and HVAC, or a powerful backup generator with the ability to power your whole home. At Seattle Electricians Today, we have whatever it is that will serve you best. Beyond a new backup generator, you will also get our superior customer service and maintenance. For more information on how a backup generator can benefit your home, call Seattle Electricians Today.
Recent Articles
Things You Should Know About Backup Generators for Your Seattle Home

Home generators keep your essentials running when there are power interruptions. Not having enough electricity can really make it hard for a household to function normally, and this is why it's important that you choose a generator that is most compatible with your home and energy requirements. What should you consider when choosing a backup...

Read More
Why Electrical Repairs Should Never Be a DIY Project

DIY projects are very popular among homeowners, and it's easy to see why: they're a great way to significantly improve your home, they're relatively inexpensive, and they're very satisfying and fun. However, there are some parts of your home that you should never work on without the help of a licensed professional, and your electrical...

Read More
If you are looking for a Seattle Home Generator Contractor then please call 206-937-8495 or complete our online request form.