Surge Protection for Your Seattle Home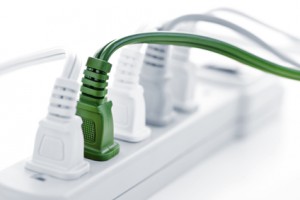 Electricity is absolutely essential to the comfort and convenience of your Seattle, WA home. It is also extremely dangerous. When dealing with electrical components and their maintenance or repair, it is advised that you always consult a trained professional. Since a certified Seattle Electrician cannot be at your home 24 hours a day (unless you live with one), Seattle Electricians Today offers Seattle Surge Protection Services to help safeguard you from unexpected electrical faults. Surge protection devices do exactly what their name implies. By interrupting the circuit at the outlet or breaker level, power surges will not be able to cause electrocution or fire.
At Seattle Electricians Today, we have assembled some of the finest electricians in the area and we have the tools and training to safely and efficiently install the proper surge protection for your home. Your safety is always a primary concern for us, and that is why we are the top choice in Seattle, WA for surge protection professionals.
Our Seattle, WA Surge Protection Professionals Provide the Following Services
AFCI's
GFCI's
Circuit Breaker Surge Protection
Outlet Surge Protection
Whole Home Surge Protection
GFCI
Ground fault circuit interrupters are very are surge protection devices that closely monitor the current levels that pass through them and interrupt the circuit if an imbalance of even the smallest kind is detected. The current is then stopped and never reaches the device on the other side of the GFCI, protecting people and property from being shocked or electrocuted by a power surge. GFCI outlets are commonly installed in bathrooms where appliances that are plugged into the wall are consistently used in hand. GFCI circuit breakers that are installed in the breaker box are another line of defense against current imbalance and power surges.
AFCI
Arc fault circuit interrupters operate are different than GFCI's in that they detect leaks in wiring and interrupt the circuit to prevent electrical fires. When wires age, they may leak electric current through cracks in their insulation. This leakage can easily catch the flammable wires in that dry environment ablaze, causing a full fledged electrical fire. The AFCI circuit breaker detects this leak and shuts the current down immediately before damage can occur.
Recent Articles
Why Electrical Repairs Should Never Be a DIY Project

DIY projects are very popular among homeowners, and it's easy to see why: they're a great way to significantly improve your home, they're relatively inexpensive, and they're very satisfying and fun. However, there are some parts of your home that you should never work on without the help of a licensed professional, and your electrical...

Read More
Is Landscape Lighting Right For Your Seattle Home?

Having landscape lighting additions installed in your Seattle, WA home will have a tremendous impact on the aesthetic appeal of your house, especially during night time. You would be surprised at how your home looks simply by adding some elegant lighting fixtures in your yard. Here are a couple of tips that you should keep...

Read More
If you are looking for a Seattle Surge Protection Specialist then please call 206-937-8495 or complete our online request form.